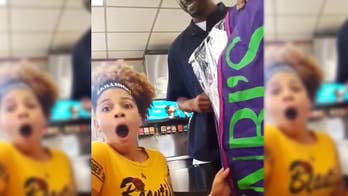 A hefty price tag for an eighth grade formal outfit was well worth the "priceless" reaction one hardworking Pittsburgh dad earned when he presented his 14-year-old daughter with the dress of her dreams.
In recent days, footage of Nevaeha Smith's ecstatic reaction to her dad's special gift has gone viral online, with over 12 million views pouring in for the minute-long clip on Facebook.
According to ABC News, the teen was delighted to find the perfect look for the Ringgold Middle School in Monongahela, Pa. dance back in June, but fretted over the nearly $200 price tag.
"I looked at the price and I was like, "Uh, not really sure, but I can see what I can do,'" Ricky Smith said of the two-piece white-and-floral ensemble his daughter had her heart set on. The 36-year-old, who juggles shifts at McDonald's, Popeye's and a Circle K convenience store, made no promises at the time, but was privately determined to make it work.
Picking up extra shifts during his already hectic six-to-seven-day work weeks, Smith was able to make the extra money ahead of the big dance and buy the dress for Nevaeha. Her mom, Kelly Anne Flemming, proposed that the hardworking dad make the big reveal a surprise, so the pair coordinated for an unsuspecting Nevaeha to visit her dad during a shift at work, and Flemming tagged along with a camera.
"I was working at McDonald's that day and I put the dress in the back," Ricky told ABC. "She came and I brought it out and told her that her grandmother bought it for her and I told her, "This ain't the dress you wanted, but I hope you like it.'"
"I was thinking, 'This is going to be an old lady dress,'" Nevaeha recalled.
As Ricky dramatically unzips the garment bag, the teen's jaw drops in total shock as she sees the special dress she wished for all along. Jumping to embrace her dad with a big hug, she immediately breaks down in tears.
"To see the look on her face it was priceless. All I can really do was smile," the dad said.
Soon after, on June 15, Nevaeha was all smiles as she proudly – and appreciatively — wore the dress to the dance.
"I'm grateful that he found a way to get me the dress and I really appreciate how many jobs he worked," she told CBS News.
"I just don't want people to think just because you don't have the money you can't make your kids happy, because you can," Ricky added.
Fans, too, chimed in with messages of support online.
"I couldn't stop crying watching the video. Beautiful and grateful young lady. Her daddy is equally amazing. Believe his little girl will make him proud. Congrats young lady on graduating 8th" one supporter wrote on Facebook.
"Her smile and those tears are what a daddy's love should be about! Thank you to her daddy for making her know what love really is," another agreed.